Welcome to the Shawano County Historical Society website! You can navigate this website to learn about us and take advantage of the history preservation and educational services we offer, and help us fulfill our mandate, as we celebrate Shawano County's rich and wonderful heritage.
Like us on Facebook!
---
Upcoming Events
Rhubarb Fest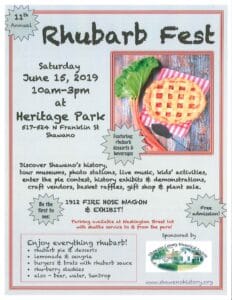 Rhubarb Fest Links:
A Vintage Afternoon Poster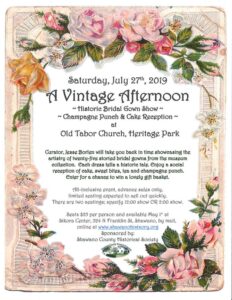 A Vintage Afternoon Links:
2019 Summer Concert Series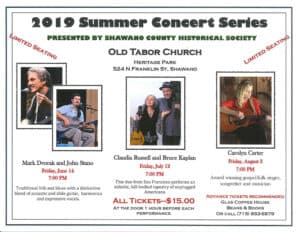 2019 Historic Shawano Calendar
---
Shawano County Historical Society
524 N. Franklin Street
Shawano, WI 54166
E-mail: office@shawanohistory.com
Phone: (715) 526-3323
Office Hours: Mondays and Thursdays, 9AM -4PM, and by appointment
Museums are open for self-guided tours on Saturdays, June through August, from 10:00 AM to 2:00 PM, or by appointment. Admission fee for tours by appointment or group tours is $5.00 for adults and $1.00 for children 5 – 18 years. There is no fee for children under 5 years of age.
To schedule a group tour:
museumtours@shawanohistory.com
To contact our Curator:
curator@shawanohistory.com
To send comments, news items or to submit articles for our newsletter:
newsletter@shawanohistory.com
To reserve the Old Tabor Church for your event:
church@shawanohistory.com