Welcome to the Shawano County Historical Society website! You can navigate this website to learn about us and take advantage of the history preservation and educational services we offer, and help us fulfill our mandate, as we celebrate Shawano County's rich and wonderful heritage.
Like us on Facebook!
---
Events & Happenings
Rhubarb Fest
***UPDATE***
The 12th Annual Rhubarb Fest has been cancelled. We are looking forward to hosting Rhubarb Fest next summer!
Do you love Rhubarb? Well, mark your calendars because our 12th Annual Rhubarb Fest is on June 20, 2020! Come to Heritage Park and enjoy one of our many Rhubarb treats. From rhubarb baked good to rhubarb brats, we have everything a rhubarb lover could ever dream. While here, take a stroll through one of our many historic building and relieve the history of our local Shawano County communities. Lastly, don't forget to support one of our many local vendors. From artisan soaps to locally made maple syrup, come to rhubarb fest to shop from your neighbors and friends!
A Vintage Afternoon Poster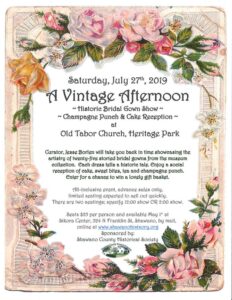 A Vintage Afternoon was an event to remember! We would like to thank everyone who volunteered to make this day special for so many people. A special thanks to Scott Parson, Thrivent Wolf River Association,The Stock Market, TimberPro, Hometown Insurance, Belle Plaine Cheese, Bay Towel, Lee and Merrie Crawford, Tracy Crawford, Kelly Karcz, Elaine Knope, and Jesse Borlen.
2020 Historic Shawano Calendar
---
Shawano County Historical Society
524 N. Franklin Street
Shawano, WI 54166
E-mail: office@shawanohistory.com
Phone: (715) 526-3323
Office Hours:
May-September: Mondays and Thursdays, 9AM -4PM, or by appointment
October-April: Mondays, 9AM-4PM, or by appointment
Museums are open for self-guided tours on Mondays and Thursdays, June through August, from 10:00 AM to 3:00 PM, or by appointment. Admission is free.
To schedule a group tour:
museumtours@shawanohistory.com
To contact our Curator:
curator@shawanohistory.com
To send comments, news items or to submit articles for our newsletter:
newsletter@shawanohistory.com
To reserve the Old Tabor Church for your event:
office@shawanohistory.com