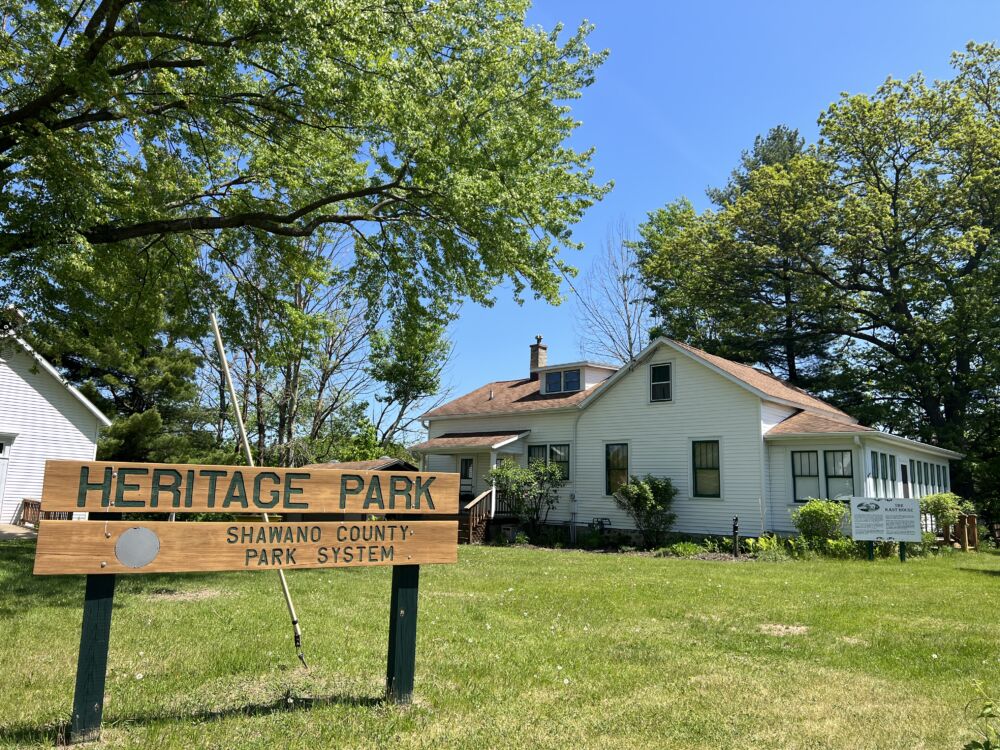 The Shawano County Historical Society is a private, not-for-profit organization that was founded and incorporated in 1941.
The mission of the Shawano County Historical Society is to "preserve the culture and history of Shawano County by creating a vibrant learning experience and serving as a repository for current and future generation.
We envision a future where we "enrich people's lives through history."
Established at Shawano County's Heritage Park, The Shawano County Historical Society is situated in an inviting park setting of historic buildings and gardens located at the site of the first European settlement in Shawano County, overlooking the beautiful Wolf River.
A footbridge leads to Sunset Island, a perfect spot for picnics and fishing.
The park museums include the John Kast House built on site in 1871 exhibiting furnishings and displays, one room schoolhouse built in 1895, reconstructed 1800's log cabin, agriculture museum at the "Oil House", 1930's limestone building, replica and diorama of Zachow Depot and a restored 1891 elegant and charming country church.
We are operated by volunteers and funded by membership dues, donations, bequests, and grants.
The Society continually benefits from synergistic relationships with the Wolf River Builder's Association, the Shawano Women's Club, the Master Gardeners, the Shawano County Chamber of Commerce, and other civic-minded organizations and persons.
Conveniently located across the street from Heritage Park, the Shawano County Historical Society operates the Sikora Family Archive and Reception Center.
The Sikora Archive serves as the administrative and archiving hub of the Shawano County Historical Society.
Volunteers at the archive preserves a collection of historic maps, atlases, photographs, newspaper clippings, documents, books, business and family files from Shawano County.
Mike Eidahl, President
Tom Aumann, Vice President
Jesse Borlen, Curator & Archive Director
Lana Buelow, Treasurer
Beth McFarlane, Secretary
Brian Carroll, Gresham Depot
Pat and Jim Kasten, Newsletter
Priscilla King, Museum tours
Mike Oberle, Website & Facebook
Dean Proper, Zachow Depot
Mike Rindt, Buildings and grounds
Marcalene Rosenow, Church rental
W. James Schmitt
Ron Schumacher
Cheryl Tiegs
Contact Us
Give us a call or send a message.