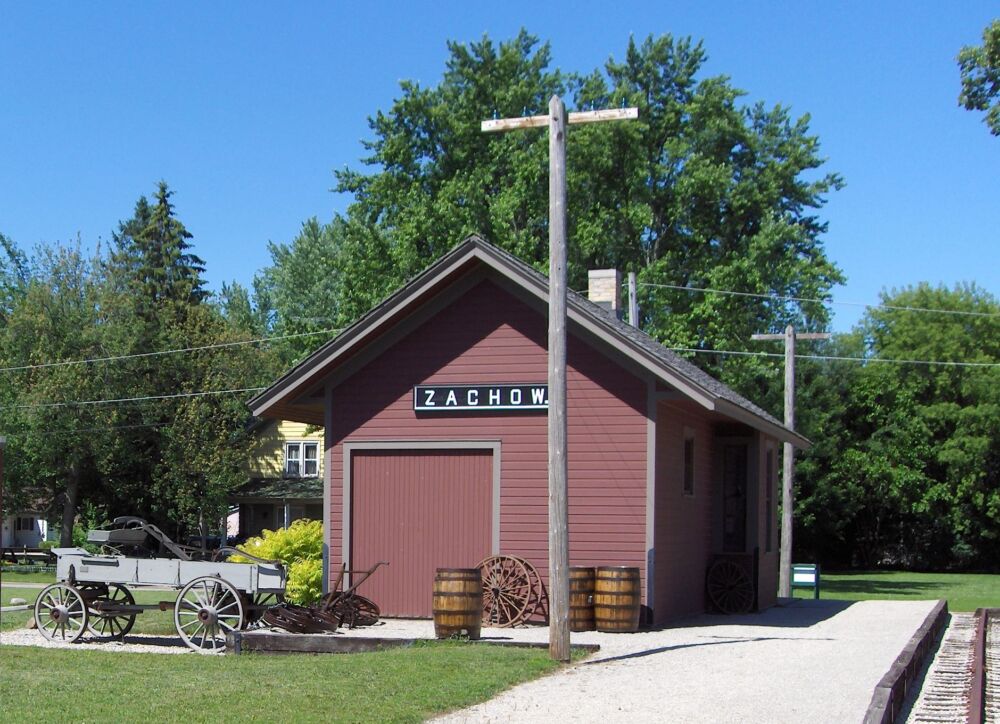 "I encourage everyone to visit the depot if you ever are in the area. It is an amazing experience to walk into what appears to be a fully active C&NM depot from 1949. It is then a real thrill to enter the freight room to find a museum-quality N scale model of the town of Zachow as it looked in 1949. For fans of the C&NW, fine scale modeling, or local history, this experience is not to be missed." -Keith Kohlmann, C&NWHS
Location
524 N. Franklin Street
Shawano, WI 54166
Phone: (715) 526-3323
e-mail: office@shawanohistorv.com
Free admission: Saturdays, June through August, 10am – 2pm

Located within the Shawano County Historical Society's Heritage Park
Museum Highlights
Listen to an "operating" railroad telegraph
Experience the 1949 Village of Zachow diorama
Hear an interactive sound system of the diorama
View typical items from that era on a freight platform
Examine a 1901 style railroad outhouse
See a 1906 era American Express Co. freight cart
Zachow Depot History
The Zachow Depot built in Heritage Park in 2011, is a replica of the C&NW Standard No. 3. Built in Zachow Wisconsin in 1906.
One of 44 such depots built by the Chicago & Northwestern Railway in the Midwest in the early 1900's, it was built in response to the growth of the farm industry in Shawano County.
There was a strong need for the stockyard and depot as receiving points of cattle and farm equipment being shipped by rail.
W.C. Zachow was the largest shipper in the area and moved his cattle and farm equipment business from Cecil, WI to Zachow after the Chicago & North Western Railway expanded its route from Green Bay to Eland, Wisconsin.
The nationally-acclaimed Zachow Depot is more than a perfect replica of the late 1920's Zachow train depot.
The depot is representative of an "operating depot" in the 20's-30's and features an "operating" telegraph key and sounder to provide some ambiance during your visit.
Contact Us
Give us a call or send a message.