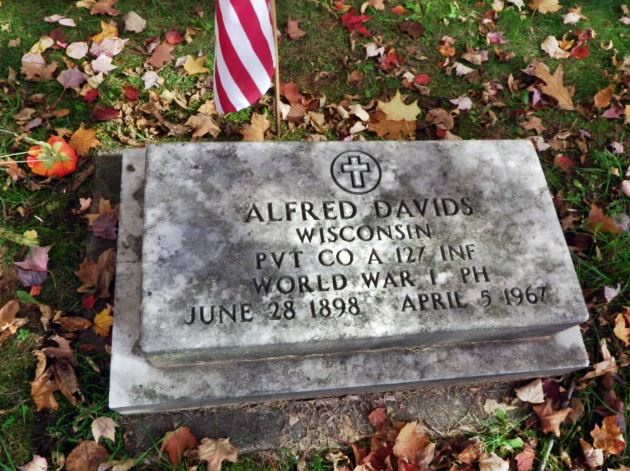 ALFRED "APP" DAVIDS – Army Co A, 127 Infantry, wounded at age 20 and disabled for life, with the bullet never removed. Alfred Davids was a recipient of the Purple Heart and member of the Stockbridge-Munsee tribe.
Alfred "App" Davids was born to William Clark Davids and Margaret Victoria Miller in June 1898 on the Stockbridge-Munsee Indian Reservation. He had nine sisters and brothers.
Alfred joined the Army on the 5th of Dec. 1917 in Shawano. He was in Co. A, 127th Infantry. After training, the company shipped out to Europe on the 18th of Feb. 1918. Alfred Davids was shot and sent to Ellis Island Hospital on the 24th of November. They discharged him on the 8th of Feb. 1919
He did not talk to family about the battles or when he was shot. The bullet stayed with him during his whole life. He received a purple heart and was disabled the rest of his life.
When Alfred was 26 years old, he married Frances and we had one daughter. They lived in Milwaukee until returning to the reservation.
Alfred Davids died on the 5th of April, 1967 and is buried here at Woodlawn Cemetery in Shawano.
Pvt Alfred Davids
Enlisted: Pvt 127th Inf on 5 Dec 1917 at Shawano
Discharged: as Pvt 127 Inf on 8 Feb 1919
Time Served: 1y 2m 3d
Born: 28 Jul 1898 at Red Springs to William Clark Davids & Margaret Victoria Miller
Died: 5 Apr 1967 at Big Lake, Gresham, Shawano County
Married: Frances Edene
Children: Kathleen Davids
Siblings, Alice, Elmer, Thelma, James, Earl, Albert, William, Eda, Berga, and Norma