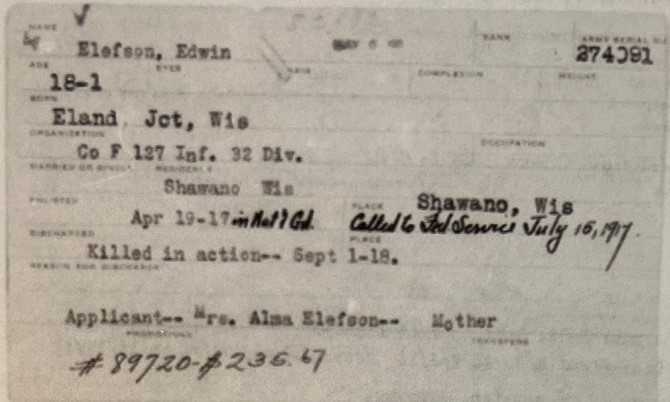 Edwin Elefson graduated from Shawano High School in 1917, where he played football and baseball. During his time at Camp Douglas, he was the star of the Co. F baseball team. At Camp McArthur, he went to bomb school. He saw fighting in Aise-Marne campaign and the Oise-Aisne campaign. He was struck by a machine gun bullet and was killed in action. His name is listed on the wall of the missing at the Oise-Aisne American Cemetery in France and the American Legion Post 117 in Shawano, WI is named after him.
EDWIN "ELI" ELEFSON – Army Co F, 127 Infantry. Killed in action at age 19, first struck with a machine gun bullet that pierced his abdomen. He raised up and was immediately hit by another machine gun bullet this time in the forehead.
Edwin Elefson's nickname was Eli. He was a man of medium build, with sandy brown hair and blue eyes. He was an only son and graduated from Shawano High School in 1917. In high school, I was known for participating in many extracurricular, from being on the football and baseball teams to playing two roles in our senior play, "She Stoops to Conquer," | was an active participant in a different array of sports and clubs.
On the onset of the American participation in the Great War, I heard the call to arms and was one of the first people to sign up with Company F. He spent some time at Camp Douglas and Camp McArthur before being sent across the Atlantic.
While at Camp Douglas, Edwin was the star of the Company F's baseball team and played in a football game which pitted us Wisconsin troops against Michigan troops. Soon thereafter, he was sent to Camp McArthur in Waco, Texas.
While drilling at Camp McArthur, a group of officers gave the company a chance to throw bombs, which weighed one pound each. Edwin threw the farthest of anyone. Because of this, William Grab and Edwin, the only two men from Shawano, were selected to go to bomb school. Unlike high school, where we would sit down and study books, bomb school was full of stiff exercise and taught the how to throw bombs. During bomb school, we would exercise in the morning, play some football, and practice throwing bombs. The football games could get a little rough, but the idea was to get all the soldiers tough so they could withstand anything.
On March 14, 1918, Edwin arrived in France. He had little time to settle in before being sent to the First Army Corps School from May 5th to June 5th. By July of 1918, Edwin was on the front lines, fighting in the Aisne Marne offensive, or the Second Battle of the Marne, which became the last major German offensive in the great war. Edwin saw fighting at the battle of Fismes from August 5th to August 7th. His Infantry spent two days trying to cross the Vesle River and liberate Fismes from German occupation. They lost around 2,000 men during the two days it took them to liberate Fismes and were finally relieved by the 28 Infantry Division after we took Fismes.
It was at this battle that the French General Mangin heard of how they were clearing the Germans out of powerful positions and nicknamed our division "Les Terribles." Edwin was promoted to acting first lieutenant after this battle.
Soon thereafter, Edwin saw fighting in the Oise Aisne offensive. During this offensive, they were fighting around Soissons, and the Germans were desperately trying to hold a hill. While attacking the hill on September 1, 1918, Edwin was struck by a machine gun bullet and was killed in action. My affidavit of death states that I was buried 200 yards to the left of Beaumont Farm. It is more than likely that he was buried in a common trench grave. Edwin Elefson's name is engraved on the wall of the missing at the Oise-Aisne American Cemetery in France.
The city of Shawano mourned my death. A memorial service at the Presbyterian church was held for me and another fallen brother, Guy George. It is said that the church was at full capacity and people had to be turned away. All the soldiers in Shawano who just returned from training camp attended our memorial in uniform. Also in attendance was the Council of Defense and the Boy Scouts.
Finally, to honor Edwin Elefson's sacrifice during the Great War, the American Legion in Shawano, WI established a post and named it after me: the Edwin Elefson Post 117. It was named after Elefson because, as someone said, he was "the youngest member of Company F and a general favorite.