High School Through The Years
by Jane Glenz
Football games, sleepy classes
Corny jokes and corridor passes
The dance band blowing sweet and sour Those welcome bells ringing every hour
Polka dancing after the game
Tardy excuses — sometimes lame
Semester tests — the loyalty yell
At the luckiest times, the fire bell. Operetta, plays, debate
Tepee Tales, that Homecoming date That was life at Shawano High Memories that will never die.
These are some of the memories that graduates of Shawano High have of their high school years, and it appears from this poem, written for the 1950's yearbook, that memories haven't really changed much. However, change was a constant thing. Not only in the number of schools and their location or enrollment but also within the schools themselves. Have athletics always played an important role for the school and the community? How has the curriculum changed? What about extracurricular activities?
CURRICULUM AND SCHEDULING
In 1880, when the high school first began, students were required to take courses in arithmetic, grammar, sentence analysis, physical geography, algebra, physiology, U.S. History, bookkeeping, plane geometry, botany and government. Students were required to complete only three years of high school — up to the eleventh grade. (Four years were required beginning 1892).
By 1909 course selections did not change much except that two foreign languages were added — German and
Latin — and Commercial courses were emphasized. (In 1918, two students won first place in the State Shorthand and Typewriting Contests). Many electives were added by the 1920's and the course of study had been expanded. (See the chart on the next page.)
Of course, academics were not necessarily a strong point for all students and many wished tests were easier as is shown by a copy of "Our Idea of a Perfect Intelligence Test," taken from the 1928 yearbook:
Who was president during Washington's administration?
What auto is known as a Ford?
How many people does it take to to make a foursome in golf?
Who wrote the autobiography of Mark Twain?
How many people compose a baseball nine?
To Whom does the quotation, Lafayette, here I come," refer?
What dictionary was written by Webster?
What circus was originated by Barnum and Bailey?
In what state is the University of Wisconsin?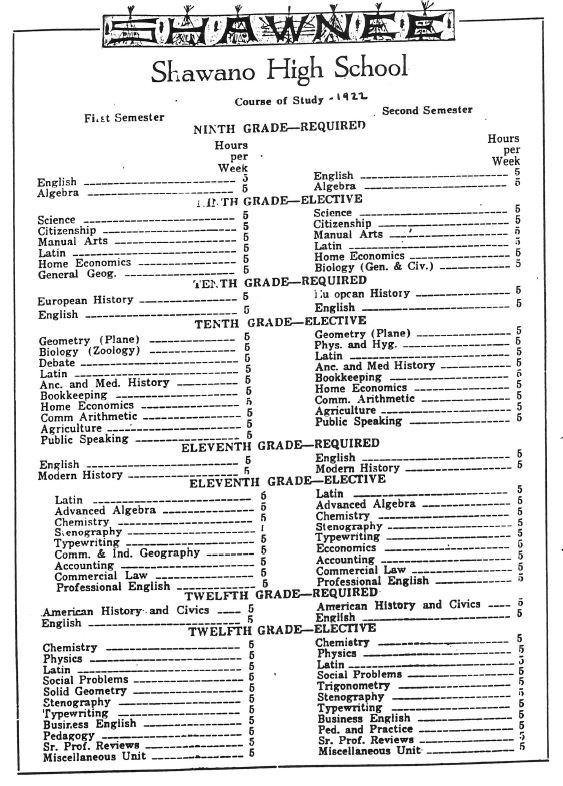 COSTS
What about the price tag for running a school district? It certainly has seen many changes. Below are some excerpts taken from the newspaper that reflect the rising costs:
December 1, 1913 – School board asks city council for $10,000 to cover expenses the next year.
August 21, 1917 – Rural school teachers of Shawano County were enriched to the extent of about $1,000 through the operation of the state law which grants bonuses to teachers remaining in one district for more than two years.
The state law provides that a bonus of $2 per month will be paid to teachers who serve the same district for two years; $4 per month for teachers who serve the same district for four or more years.
June 13, 1940 – School Board sets pay for substitute teachers at Lincoln School – $4.00; and High school $5.00.
July 13, 1944 – The SHS budget for the coming year was set at $67,000 at the annual meeting.
July, 1962 – The school district adopts budget $1,547,976.
August 10, 1965 — Fees
$4.00 – Book deposit and materials        
$0.25 – Lock deposit                                   
$1.65 – Activity fee                                      
$4.00 – Annual (Optional)                         
$1.35 – WIAA                                               
$3.25 – Towel and gym lock                      
$1.00 – Football season ticket (optional)
$2.25 – Basketball ticket (optional)         
All books must be covered. Sold at school for 10 cents each.
June 20, 1979 – Shawano-Gresham budget $4,273,046.
August, 1989 – Shawano-Gresham voters OK a $10.6 million dollar school budget.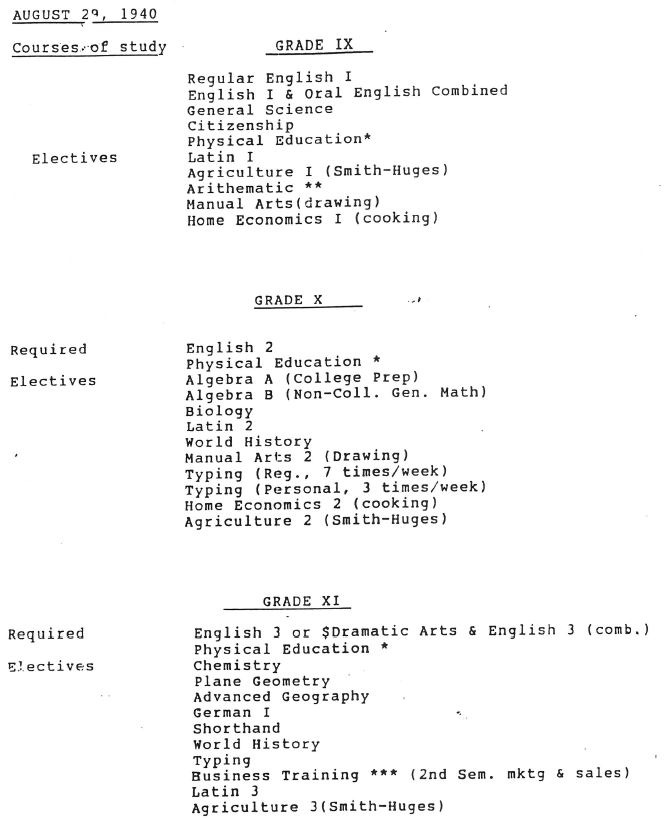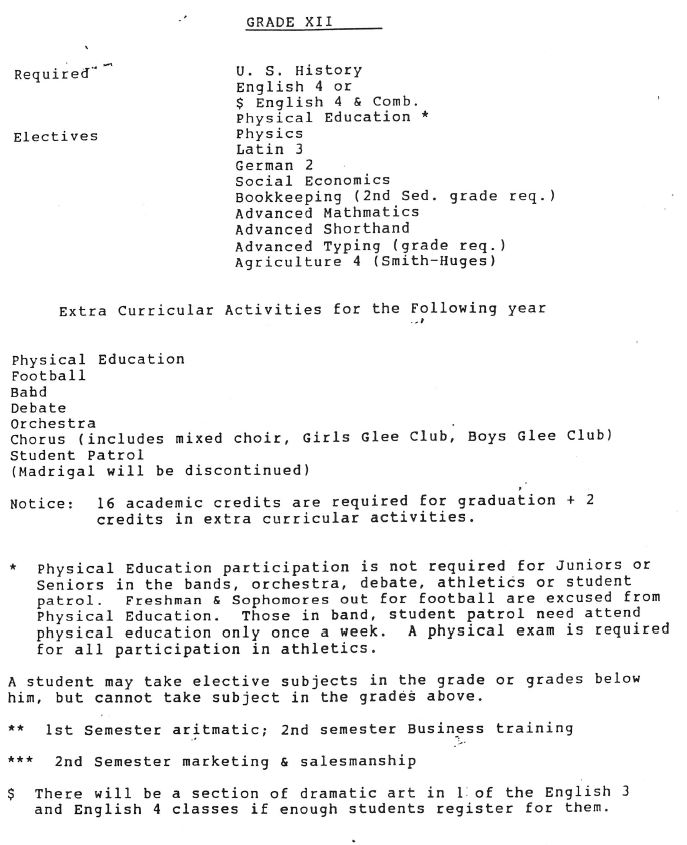 CLUBS AND ORGANIZATIONS
Extracurricular activities were more important in the past years than they seem to have become now. For example, there were approximately 22 extra activities listed in the 1950 yearbook but only about 15 in the 1989 yearbook. This is because the school, in the past, provided an area for socialization for the students that today they can get elsewhere.
A great deal of variety in clubs and organizations is evident over the years.
For example:
1908 — The first Shawnee was published. Other clubs are Boy's Glee Club and Orchestra consisting of five members piano, cornet, two violins and trombone. Members of 1908 also took part in the Lyceum Society which started in 1898. They presented programs in the assembly twice a month.
1920's — Radio Club, Commercial Club, Debate, Oratory, Cadet Training, Philakean Society, Hesperia Society, Library Club, Forensics and Science Club.
1930's — Pep Club Drama Club, Student Patrol, German Club, Latin Club, Boys Honorary Club.
1940's — National Youth Association, Drivers Training, Knitters, Student Operators, Skit Club, National Honor Society.
In 1941 the first newspaper was started. It was called Sha-Lib-Co.  It was published by the Library Club.  Tepee Tales was started in 1950.
1950's — Modern Dance Club, Red Cross Council Monitors, Softball League, FBLA (Future Business Leaders of America) began in 1954 and FTA (Future Teachers Association) was added in 1956; Slide Rule Club.
1960's — Gymnastic Club, Spelling Team, Bookstore Workers.
1970's — Monty Python Club, Indian Club, Health Occupations, DECA, Fine Arts Club.
SPORTS
In most small towns throughout America high school athletics has always been a focal point not only for school age children but the adults in the community as well. Shawano is no exception to this American phenomenon. Throughout the years there have been a number of changes in the sports program at the high school level.
Early in the school's history sports were very limited with intramural sports being more common than traveling teams. In 1880, baseball was the only outside social activity the students took part in.
In 1898, the first football team was organized with the assistance of a Rev. Bethel who also played center. They played Clintonville several times and defeated them but were beaten by Oconto. In the early 1900's boys football, baseball, and basketball were popular with Shawano playing and defeating most surrounding towns.
In 1929, the Shawano football team won the state championship. Also, in 1929 and 1930, Shawano became the state free throw champions. They averaged 41 of 50 free throws. Other state championships won by the Shawano boy's teams were in tennis (1940 and 1941) and basketball in 1945, 1956 and 1957.
As the years passed Shawano continued to add boys' sports teams. In 1929 cross country was organized; 1920's saw the addition of track. In the 1930's tennis was introduced, in 1941, boys golf and in 1954 wrestling became part of the sports program.
The 1960's saw the beginning of girls athletics. Organized teams for girls were not common before that time. However, Shawano did have a girls basketball team in the 1920's and an intramural program called Girl's Athletic Association (GAA) which was started in the 1930's. However, with the push for equality for women, golf and track were added in 1965.
It wasn't until the 1970's that may girls teams were organized and girls athletics began to play a significant role in sports for Shawano. In 1973, girls volleyball and tennis were added. In 1977, basketball, 1979 cross country and in 1980 a pom pon squad was organized. In 1973, and again in 1988, Shawano won the state girl's volleyball championship.
Today boys and girls sports teams continue although a decline has started in terms of sports offered and the number of participants. However, more than likely it will continue to be an important social activity for the high school and for the community.
MISCELLANEOUS
Besides the topics described previously, the following excerpts taken from newspapers and yearbooks reflect some of the other changes.
January 15, 1915 — School board prohibits the smoking of cigarettes or use of tobacco in any form by students of Shawano City Schools, either on the school grounds, while going to or from school, or in public places.
Notice is hereby given to merchants and vendors of cigarettes, cigars, or tobacco in any form and to all other persons, that the law forbidding the sale or gift of cigarettes, cigars, or tobacco, in any form, to minors and school children, will be strictly enforced.
December 12, 1912 – The debating teams of Shawano high school have just been arranged. There are 22 members at this time . . . The question to be discussed, "resolved that the State of Wisconsin should have an income tax."
August 24, 1933 — All school children ordered vaccinated before September 1, as an epidemic of smallpox threatens city.
June 6, 1935 — All schools closed because of scarlet fever epidemic.
March 11, 1937 — Tuberculin test given to students.
September 2, 1937 Grade schools close because of illness and hot weather.
May 7, 1938 – Mother's Day was very fittingly recognized yesterday afternoon by the three girls organizations (Library Council, R.O.H. Club, and Hesperia) of Shawano High school when members of these organizations acted as hostesses at a Mother's Day Tea given to honor their mothers. The tea was given from four to six o'clock in the high school gymnasium.
May 20, 1938 – Gresham High School holds their first graduation. The commencement marked the first senior class of the newly reorganized Gresham High School.
February 7, 1939 — All city children are to be vaccinated against small pox. There are no cases of smallpox in the city. However, Clintonville and other towns and cities nearby have smallpox epidemics.
October 31, 1940 — City schools close — infantile paralysis epidemic.
February 5, 1940 — Shick test given to test for immunity to diphtheria.
Fall, 1943 — Driver's Eduction classes start at the high school.
Fall, 1948 — On the advice of city health officer steps were taken to have all of the schools in the city completely sprayed with DDT as a precautionary measure against polio.
May 23, 1953 — All senior boys and girls were awarded certificates for work in first aid and home nursing. These two subjects are required in the senior year.
May 1, 1954 — Talent Show was held at the high school Among the talent displayed was … a jig, a song solo, and an impression of a Negro mammy. The harmonica was also played.
May 17, 1955 — Polio shots for all county students starts Wednesday.
August 15, 1955 — School opens September 6th to allow time to finish new school building and because of the threat of polio.
August 25, 1967 — Rules for Junior High
Boys
Proper grooming
Proper hair styling – hair cut when needed. Long hair is not permitted. No long sideburns.
Hairstyles setting an individual from his or her fellow students as being different is not permitted.
No ducktails
No unconventional combing of the hair in "rolls" over the head.
Boys bangs should extend no further than 1/2 way down the forehead.
Hair must not be bleached, dyed or treated with any artificial hair coloring or spray.
Belted trousers or belts worn when trouser are not belted.
Buttoned shirts.
Turned down collars.
Appropriate footwear – no cleats – no boots.
Shirts which are too long are to be put into trousers.
Girls
No cleats
No boy's shirts
No decorous use of cosmetics.
Proper grooming and hair style
Girls bangs may extend to the top of the eyebrows, but at no time should they impair or obstruct vision.
Hair must not be bleached, dyed or treated with any artificial hair coloring spray.
Proper length of skirts. A skirt should be no shorter than 3″ off the floor when a girl is kneeling down.
November 21, 1974 – The SHS Aerospace class was awarded an aircraft through the Federal Property Program sponsored by the federal government. The Aerospace class intends to use the aircraft as an instructional aid. This is only the second aircraft to be awarded in the State of Wisconsin.
May 20, 1986 – Bomb scare clears SHS.
April, 1993 – Graduation Prayer issue arises. Shawano-Gresham Board members could be sued for support of invocation.
In 1940, Dr. Richard Wedgewood, a graduate of Shawano High School, gave the school money to establish a school forest. Consequently, in the 1940's the school purchased three tracts of land in Shawano County. On this land 18,000 trees were planted. Once piece of land was donated by Mr. Haut. This was located on Green Bay Road, about four miles east of Shawano. The other two were west of Shawano on Highway 29. The Wedgewood Memorial is just beyond the overhead and the second piece of land is about 1/4 miles west of Thornton. (Note: The Wedgewood Memorial land west of Shawano recently was destroyed by a fire but was replanted again by Shawano students).
The old adage is the more things change, the more they stay the same and the following poems, taken from the 1928 and 1936 yearbooks point out that students are still students no matter what the decade:
You can always tell a Junior by the way he swells his chest;
You can always tell a Senior; he's so sedately dressed;
You can always tell a Freshman by his timid looks and such;
You can also tell a Sophomore, but you cannot tell him much.
A Freshman's Prayer
I want to be a Senior and with the Seniors stand;
With fountain pen behind my ear and a notebook in my hand;
I wouldn't be a president; I wouldn't be a king;
I wouldn't be an emperor for all that wealth would bring;
I wouldn't be an angel, for angels have to sing; I'd rather be a Senior and never do a thing.