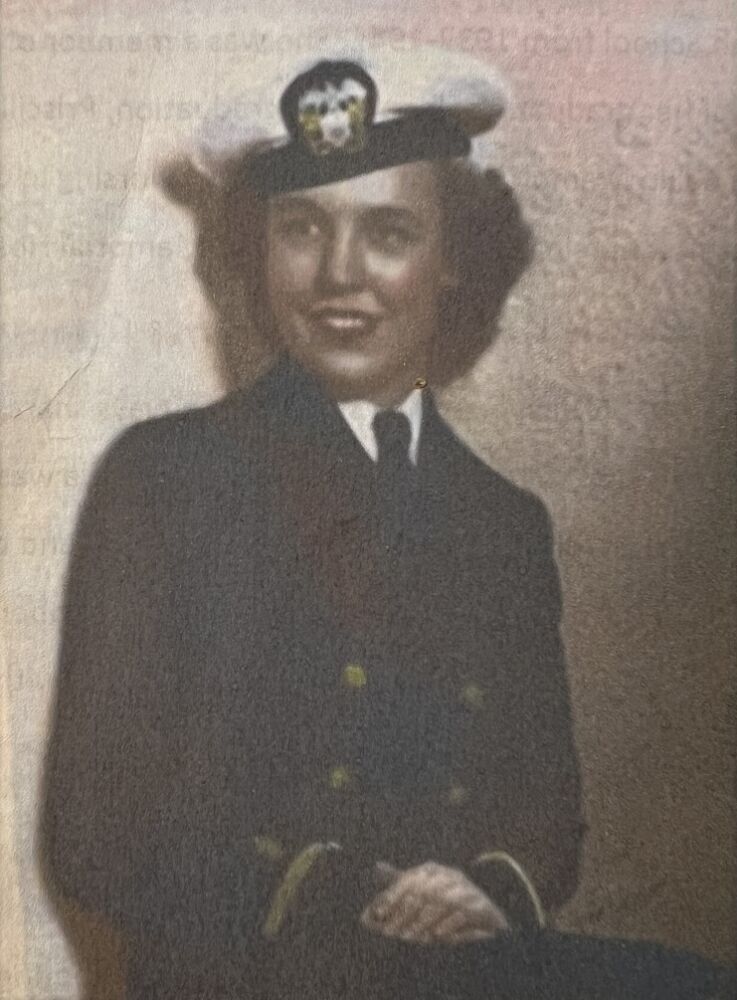 Priscilla Louise Ann Druckrey
Priscilla Louise Ann Druckrey, was born on May 1, 1923 to Oscar F. Druckrey and Louise Gandt. The family lived at 412 S. Union Street, Shawano, WI. She was part of a huge extended family, and most Sundays were spent at her grandparent's farm where family members came to enjoy dinner together. She had many cousins to play with which was fun for her being an only child. Priscilla would share stories of how her mother made donuts every morning to sell at the grocery store.
At age eight, sadly Priscilla experienced a very personal tragedy. Her mother became very sick and passed away in January of 1931. Her mother's sister was essential in assisting with the raising & caring for Priscilla. Her dad worked full time for Upham's grocery store. Her dad remarried on April 28, 1933, to Magdalene Matz, a very fine seamstress, who worked at Chaimson's Department store. Priscilla would recall the benefits of being an only child during the "Depression" years. She always had pretty dresses & plenty of toys, so the neighborhood children loved to come & play at her house. She remained an only child until becoming a big sister in 1938. Her brother's name is Curtis.
Priscilla attended Shawano High School from 1937-1941. She was a member of the debate team & honor society. She was Valedictorian of her graduating class. Upon graduation, Priscilla was accepted into the Registered Nursing program at Bellin Memorial Hospital – School of Nursing in Green Bay, WI. She graduated in August, 1944, and accepted her first nursing assignment at Bellin Memorial Hospital as charge nurse of the newborn nursery.
In February, 1945 she enlisted in the US Navy Reserve. She would always share the reason for joining the Navy, was that she would be assigned to a ship to travel & see the world. Priscilla was the daughter of a World War I veteran who had been injured, and now she had the opportunity to serve and take care of Sailors and Marines, many of which were returning from the European and Pacific war fronts. Robert was one of those Marines who had been shot in the back of his head during the battle in Tarawa. Priscilla, with a smile beaming from ear to ear, would frequently share the story of how she would care for all the patients on Ward 92 at the Great Lakes Naval Hospital. Aside from providing care to her wounded patients, she would routinely sit and listen her patient's war stories.
On one occasion, while touring Ward 92 with the head nurse and after meeting one handsome Marine, Priscilla whispered to the head nurse "that Marine could put his slippers under my bed anytime." She didn't get to travel & see the world, but she served her country by giving the best medical care she could to those who became known as the greatest generation.
Priscilla began dating that Marine, and they fell in love. He would write her love letters & they both had silly code names for each other. Priscilla's code name was "Silly Gizzmo." Upon recovery, our father was discharged from the Marine Corps back to Winnebago, MN. They would correspond by mail, & when Priscilla had a day off, she would make a telephone call to him. With the war ending, the military issued a ruling that all married personnel could request for an early discharge and would be given priority. Wedding plans were made, and Priscilla & dad were married on November 8, 1945, at St John's Lutheran Church in Waukegan, Illinois. Priscilla was then discharged from the Navy on November 21, 1945. Initially they lived in MN while my father went to school. They moved to Stevens Point, WI in 1950. Priscilla worked at St Michaels Hospital for many years, & then worked for Portage County Health Department for 23 years, doing school health.
Our Mom was a wonderful, loving, kind & giving person. Our family consisted of 4 children, 12 grandchildren, and 13 great grandchildren. Priscilla inspired 1-son, 4-grandsons and 1-granddaughter who all made the decision to serve in the military.
Priscilla's granddaughter Sarah was inspired by her grandmother's service in the military during WWII. Last year Sarah deployed to the Middle East and she took her Grandma's Navy dog tags with her. Finally, Priscilla got to travel & see the world!
Being with family & having family gatherings were very important to both of our parents. Along with working, Priscilla was very involved with various church & community activities.