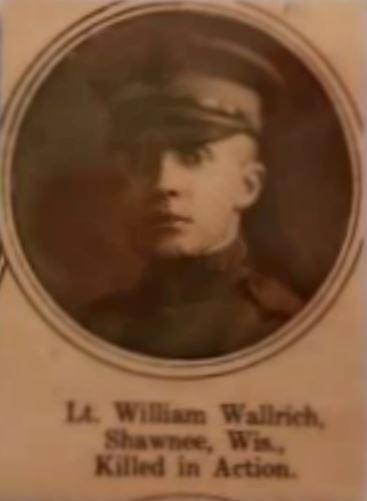 LT WILLIAM "BILL" McKINLEY WALLRICH – 1st Lieut. Army, 38th Infantry. Killed in action at age 23.  William Wallrich has a headstone in Woodlawn Cemetery but is buried in France.
Lieutenant William McKinley Wallrich was born in Shawano on October 28th 1894. he was the first-born child of the family. Raised in Shawano, he graduated from Shawano High School In 1913. He always had good grades and went on to the University of Wisconsin, receiving a degree in agriculture in 1917. There, he joined the Phi Sigma Kappa fraternity, eventually becoming the chapter president.
The drums of war were slowing beginning to beat, and in April of 1917, the US entered the war to end all wars. Soon, on May 12, 1917, Bill enlisted into the US Military and entered training camp at Fort Sheridan. He received his diploma from the University of Wisconsin in training camp.
At Fort Sheridan, he took up training in both the first and second officer training school, and in November of 1917 and received his commission of First Lieutenant.
Shortly after receiving my commission, he came back to Shawano for the Thanksgiving holiday. He joined the Masonic order, just like his father, and was elevated to the degree of Master Mason by special dispensation from the Grand Master of Masons in Wisconsin five days after my petition to join. To this day, no one in the Shawano Masonic Lodge has been raised to such a degree so quickly.
After spending two weeks at home and saying my goodbyes to his friends and loved ones, William Wallrich was sent to Camp Green in Charlotte, North Carolina. He stayed in North Carolina until March of 1918.
After arriving in France, he was detailed for further instruction in the American Expeditionary Force gas school at Chaumont and was appointed regimental gas officer. After receiving training, William was sent to the front lines, fighting in the second battle of the Marne.
William Wallrich was killed on July 23, 1918, during the second battle of the Marne near Joulgonne, France. He was carrying food to men who were laying out in the field when he was hit by shrapnel from a bursting shell. He was buried in the Oise-Aisne American Cemetery in France.
Upon his death, the people of Shawano mourned. A memorial, officiated by Reverend Upjohn, was held for Wallrich at the St. John's Episcopal Church here in Shawano. It is said that fifty-six people showed up to my memorial service, including the Shawano Masonic lodge.
William Wallrich
First Lieutenant, U.S. Army
38th Infantry Regiment, 3rd Division
Died: July 23, 1918
Buried at: Oise-Aisne American Cemetery, Fere-en-Tardenois, France Plot A Row 16 Grave 7